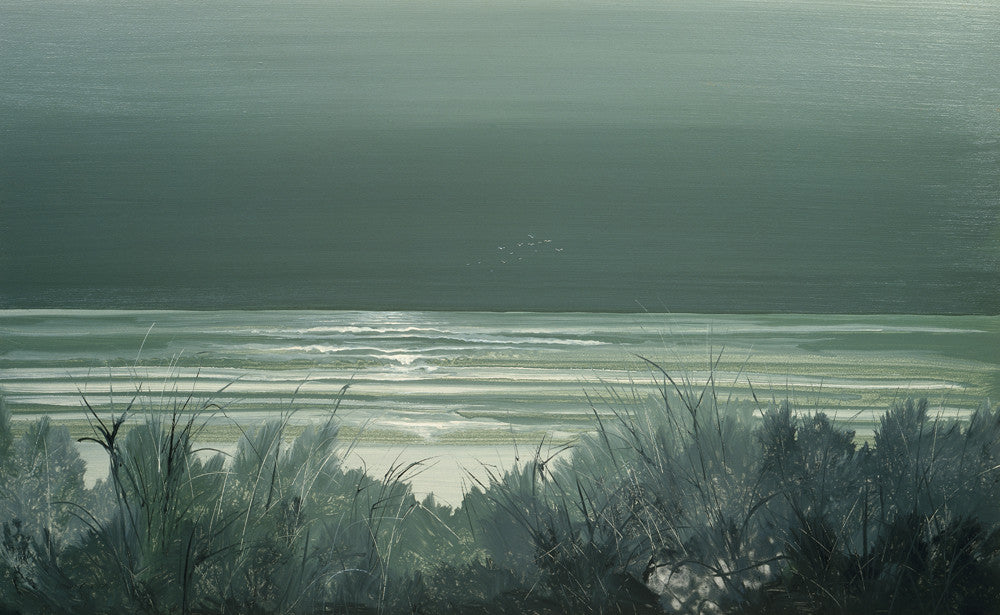 Donn DeVita
Cold Storage Beach, East Dennis
Often I would go to Cold Storage Beach at night and look fascinated at the panorama of Cape Cod Bay. The flickering lights from small craft and Provincetown pepper the horizon like fireflies in flight. The moon often bathes the area with a variety of diffused reflected light. I wondered if it could be painted on canvas. Depending on atmospheric conditions, the light can be almost any hue. This particular night it was a luminous jade green. You had the sensation of feeling the moonlight with your hand. It was an arduous painting to execute. Coping with the moon at my stern and off the picture plane proved to be more of a handicap than one might expect. It was difficult to create the proper skylight that would explain the location of the light source. Many hours were spent before satisfactory results were achieved.
Picture size 24" x 14 7/8"
Signed and numbered limited edition lithograph printed on acid-free stock.


Please visit https://shiverickships.artstorefronts.com/home to purchase a giclee print.
---
More from this collection